For years, there has been controversy when it comes to the topic of bridesmaids' wedding dresses. Should the color and design of their dresses be the same color and cut or should they have the right to choose and independently choose what to wear to the wedding they will attend? Opinions on this topic will remain divided forever, one side, ie the bride will always be for the bridesmaids' dresses to be the same color that will suit the whole ceremony. While if you ask the bridesmaids, they are not very thrilled with this decision and this tradition that dates back years.
If you are approaching a wedding where you should be in the role of a bridesmaid, we warmly recommend you to pay attention to this article, because we have singled out several reasons why it is not so bad to wear matching color dresses with the rest of the girls. We assure you that you will not regret this decision.
1. Old tradition
One of the reasons why bridesmaids still have to wear the same wedding dresses today is because this is a tradition that dates back a long time to royal families. There is a very interesting story about Queen Victoria's wedding, where she decided that all her bridesmaids should be dressed in white. It is believed that since then, this tradition has spread throughout the world and all other ordinary citizens have tried to follow these trends. However, one thing they tried to change, and that is the color of the dresses, which in no case should have been white, so as not to overshadow the beauty of the bride.
2. This is her special day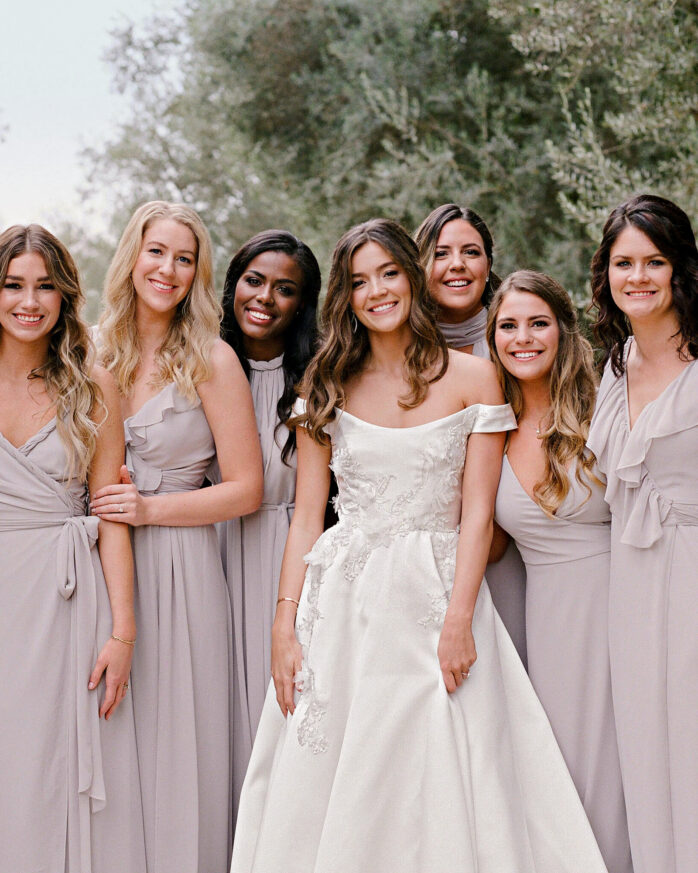 For a moment try to put yourself in the bride's skin. All that planning, time, and money were spent to organize this event and to have the wedding of your dreams. For you, wearing the same dresses like other girls may not mean anything, but your friend, a relative who is in the role of the bride, means more to her this day, and she wants everything to go well. So at least help her get through this day, and have the best wedding ever, and put on the dress she has chosen for you.
3. The photos will be wonderful
Another reason why you should wear matching dresses with other bridesmaids is because of the wedding photos. You know that every couple who gets married does a photoshoot with photos that will later remain as a memory forever from this ceremony. Just imagine what a mess it would be if the guests were dressed differently. Wouldn't the photos look much better if the girls wore the same dresses and the boys the same suit? When one looks at the photos, one will not concentrate on what people are wearing on them but will look at their happy faces. I also think that is the whole point of the photos, to capture the emotion of the people in the given moment, and not to present what they are wearing.
4. There will be no envy between girls
We know very well how the female mind works. We are always ready to compare ourselves with other girls in the way they dress, make-up, behavior, overall appearance, and much more. Wouldn't it be better not to concentrate on this type of behavior for at least one night, and instead indulge in a good party that follows the wedding. If you all wear the same dresses, you will not be able to compare yourself with other girls in any way, because you will all look the same. Otherwise, if they are given the choice to choose what they want to wear, of course, you will choose what you like, but the gossip will start immediately that they tried too hard to look beautiful, or that you look too ordinary for one wedding, that one of the other bridesmaids has a nicer dress than yours and so on.
5. Dresses are not as ugly as you think
Fashion is constantly changing, if you make a comparison between the dresses of bridesmaids of the past and those of today, you will notice a huge difference. Today the creations worn by the bridesmaids are significantly more beautiful than those a few years ago. This is due to the large selection of textiles, colors, and brand-new cuts. So just take a look at the gorgeous bridesmaid dresses we have on offer today, and you can do it at AWBridal. Beautiful creations that shine with beauty, with fine colors that can fit into the complete arrangement of the wedding and suit any complexion. These are cuts that suit every body shape, and it would be a real pity to miss such an opportunity and wear such a beautiful dress together with other bridesmaids.
6. It's easier
When it comes to choosing clothes, we know very well that for us girls it is really difficult to choose what to wear for an event. Just imagine how much time you spend going from one boutique to another trying on countless dresses, and you are limited in time because the clock is ticking until the beginning of the wedding. Wouldn't it be much easier if someone else chose for you? Of course yes. On the one hand, the bride will surely choose a dress that will look divine on each of the girls, on the other hand, you will save too much time that you would otherwise lose by walking from one boutique to another. In the end, it's better to have a matching dress next to other bridesmaids than to find one you like and have to choose something from your closet.
Do you have to wear the same dresses as the other bridesmaids at the wedding? We would certainly agree with this if this is the bride's decision. There is nothing wrong with looking the same as someone else, and we have presented a few reasons why this is not such a bad idea.
We can only encourage you to wear the dress chosen by the bride, to shine at the ceremony, and to have an extra fun time with the rest of the guests. For such celebrations, it is completely irrelevant who will be dressed in what, as long as everyone is having a good time.